Sign Up
Login
API
FAQ
Tools
Archive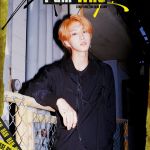 Seasons Application
J15UNG5PLU5H13
Aug 21st, 2018
(
edited
)
73
Never
Not a member of Pastebin yet?
Sign Up
, it unlocks many cool features!
⟪ᴛᴀsᴛᴇ ᴛʜᴇ ғᴇᴇʟɪɴɢ⟫

name| Rachel Lee Jaesoo

age| 18

birth date| 22 September 2000

nationality| Korean

ethnicity| Korean/American

birthplace| Cebu, Philippines

hometown| Cebu, Philippines

weight| 48kg

height| 169cm

⟪ᴅʀᴇᴀᴍ ɪɴ ᴀ ᴅʀᴇᴀᴍ⟫

personality|

- Joyful 24/7. It's really hard to find her angry or sad. She's always laughing and smiling and it's contagious. The other members wonder if her smile is permanently stuck on her face.

- Funny. She can be really cute and funny without even trying. Especially when she's on coffee, she'll be bouncing off the walls. She's one of the memes in the group.

- Extra. She is extra af. Even just getting a regular bubble tea would be a weird performance by her.

- Hardworking. Despite all this fun and cute personality from her, she's hardworking. She sometimes overworks and it affects her health, but as long as the other members remind her when it's time to stop, she'll be okay. She got this trait from growing up from a poor family and having to work after school.

background| She grew up in a poor family living for in a small house by the beach in Cebu. They did not have a lot of money, since her Father died when she was 6. He was the bread-winner of the family, so they had financial problems when he died. They just had enough money to send their only child to school, and after school she would have to come home, finish her homework and help her Mother with errands. She'd skateboard to get groceries, help her Mother out at the bookstore she worked at or do housechores. She grew up being contentedly with what she had and she worked hard to achieve the small goals she set for herself. As she grew up, she loved music. The traditional Filipino music was a joy for her to listen to. When she discovered Korean pop, she decided that she wanted to become a k-idol. When she was 13, the international JYP auditions came to Cebu. She auditioned and was accepted. After training for 2 years under JYP, she was transferred to SM and trained for another 3 years before debuting.

likes|

- Plushies

- Skateboarding

- Beaches

- Ramen

dislikes|

- Hate

- Procrastination

- Bitter Food

- Creepy Crawlies

trivia|

- She busked with small group of friends in Cebu.

- Always dreamed of going to Japan.

- Is fluent in Korean, English and Tagalog. Plans to learn many other languages like Chinese and French.

- Has a pet Corgi called YeoYeo.

- She auditioned for Vocals but ended up becoming a Rapper.

- She is actually an introvert. She is really awkward around people she doesn't know or isn't close to.

⟪ᴘᴀʀᴀᴅɪsᴇ⟫

face claim| Rena (Pristin)

backup| Jinsoul (Loona)

love interest| Mark Lee

backup| Zhong Chenle

couple trivia|

- They are often found at A nearby bubble tea Cafe

- They have really weird dance battles and pillow fights

- He likes to steal her beloved plushies and hide them sometimes

- They act awkward towards each other in front of the fans when they really arent

- They speak to each other in English for fun. It help so him with his english

predebut activities|

- Modelled for her 6 years of training

- Former JYP trainee

- Featured in NCT 127's "Firetruck" MV and Twice's "Ooh Ahh" MV

requested scenes| Sorry, can't think of any.

⟪ʜᴇᴀʀᴛʙʀᴇᴀᴋᴇʀ⟫

message to group| Hey everyone! I'm really happy to be in a good a group with you all and I hope we can get along!

message to SM| Thank you for letting me be a part of Seasons! I promise to work hard and not let you down.

personal greeting| " Hey everyone! It's the rainbow to your rain, Jae-Elle! "

⟪ᴠɪsɪᴏɴ⟫

ⁿᵃᵐᵉ| Rachel Lee Jaesoo

ˢᵗᵃᵍᵉ ⁿᵃᵐᵉ| Jae-Elle (JL)

ᵇⁱʳᵗʰ ᵈᵃᵗᵉ| 20/09/00

ᵖᵒˢⁱᵗⁱᵒⁿ| Main Rapper, Vocalist, Face of the group

ⁿᵃᵗⁱᵒⁿᵃˡⁱᵗʸ (ᵉᵗʰⁿⁱᶜⁱᵗʸ)| Korean/American

ᶻᵒᵈⁱᵃᶜ ˢⁱᵍⁿ| Virgo

ʰᵉⁱᵍʰᵗ| 169cm

ʷᵉⁱᵍʰᵗ| 48kg

ⁱⁿˢᵗᵃᵍʳᵃᵐ ʰᵃⁿᵈᵉˡ| @jl.22.09.00

ˢᵘᵇᵘⁿⁱᵗ(ˢ)| Fall

ᶠᵃᶜᵗˢ|

- Her first language was English.

- She has no siblings but wishes she had a Sister.

- Was in her school choir.

- If she wasn't an idol, she'd want to be an author.
RAW Paste Data
We use cookies for various purposes including analytics. By continuing to use Pastebin, you agree to our use of cookies as described in the
Cookies Policy
.