Sign Up
Login
API
FAQ
Tools
Archive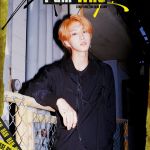 Be Entertainment Application (3)
J15UNG5PLU5H13
Oct 16th, 2018
(
edited
)
81
Never
Not a member of Pastebin yet?
Sign Up
, it unlocks many cool features!
IDOL FORM

username; @J15UNG5PLU5H13

password; Namjoon and Yoongi

birth name; Choi Soojin

other name; Evelyn Choi

nicknames; Evie, Choichoi, Lynn

gender; Female

age; 25

birthday; 11/04/93

birthplace; Daegu, South Korea

hometown; Chengdu, China

nationality; Chinese-Korean

ethnicity; Chinese-Korean

spoken languages; English, Chinese and Korean

height; 168cm

weight; 52kg

blood type; AB

personality;

» Hyper; As a person with ADHD, it isn't really surprising that she's hyper and active. She can't help herself but always be smiling and can't sit still. She loves to let loose and have fun to satisfy her hyper side.

» Intellectual; Though she can seem really crazy, she's actually pretty smart. She's very sensible about her words and actions. She's got smart answers and good ideas to almost everything. Don't judge her by her weird personality.

» Artisitic; She's a really artistic person who likes to have her own say and opinion. She loves Colours and vibrancy as she can express her weird and hyper self. She likes to look at the world from a very different perspective from other people. That's what makes her unique and inspiring.

» Sweet; Shes always thinking about others without putting a thought to herself. She cares about her fans, colleagues and friends way more than herself. She'll buy food for them, help them anytime and be there for them whenever they need someone to vent out on.

» Stubborn; She can be very stubborn sometimes. She always has her own view which she dislikes to be disregarded or ignored. She doesn't mean to spoilt or anything, but she feels the need to have some freedom as an artist to express herself and she sometimes doesn't care about her Idol image if it means pretending to be someone she's not.

background; Anlthough she was born in her father's hometown, Daegu, she grew up in her mother's hometown. Chengdu. She had no siblings but was still happy as her Mother was a housewife who would spend a lot of time with her. She developed mild ADHD when she was 3 years old but it didn't not affect much of her learning or growth. She was able to get into the top class in her school as well as have quite a few friends. She was into Arts, especially performing, and always had a different and unique point of view. She wanted to move to Seoul and audition for SOPA, so left her parents to do so. She managed to get in and after she graduated, she flew back to China to spend some time with her parents after her Long absence. She worked at a cafe, performing for the customers when she's stayed in Chengdu before flying back to Korea to audition for Be Entertainment and managing to get through.

trivia;

» She has mild Attention Deficit Hyperactivity Disorder (ADHD)

» She has a special stuff toy panda called Xing who she can't sleep without.

» She is close friends with BTOB's Peniel and f(x)'s Amber.

» If she wasn't an idol, she would have wanted to become a make-up artist.

» She loves Swimming, Smoothies, Rubies, ice cream, childhood cartoons and roses.

» She likes to hang out with the other idols under Be Entertainment on their day-offs.

group, solo or co-ed; Soloist (Sunmi)

if group wich one; -

backup; -

position in that group; -

backup; -

face claim; Sunmi

backup; Jisoo (Blackpink)

second backup; Nayeon (Twice)

stage name; EveLyn

self evolution; nothing more than 380

vocal; 80 / 100

rap; 70 / 100

dance; 80 / 100

visual; 70 / 100

charm; 80 / 100

training years; 5 years 7 months

introduction; " Before anyone else, hello I'm EveLyn! "

audition link; https://youtu.be/heILm_Z9FEs

requests; none

extra; none

message to the ceos; Thank you for letting me debut after man you years of trainee. As a soloist, I promise to work hard and prove myself.

message to us; My last one!! Thank you for bearing with me and I can't wait to get started! I'm always here to support!!!
RAW Paste Data
We use cookies for various purposes including analytics. By continuing to use Pastebin, you agree to our use of cookies as described in the
Cookies Policy
.