Sign Up
Login
API
FAQ
Tools
Archive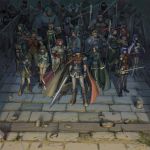 FE12 Story Script Rewrite (Prologue 5: March Duty.)
SirRagnell
Feb 8th, 2018
(
edited
)
180
Never
Not a member of Pastebin yet?
Sign Up
, it unlocks many cool features!
Prologue 5: March Duty.

Luke:

Ahh...

This forest sure is nice and peaceful.

Kris:

It is.

Luke:

Just walking around here makes me feel

rejuvenated, in a way.

Kris:

Yeah, same here.

Luke:

Oh, by the way.

We're lost, aren't we?

Kris:

Of course not! I've got the map…right…here…Uh,oh.

Luke:

Hey, Kris the Ordinary!

Don't tell me you lost the map! How can you be so careless?! Do you even know where the castle is?!

Kris:

Uh... sorry...

I just had it a second ago...

We're definitely lost now.

Luke:

WHAAAAAT?!

You don't need to tell me that!

I figured that out ages ago!

Katarina:

Everyone, please, we mustn't fight!

We need to work together in times of crisis...!

Roderick:

She's right.

There's no point in crying over spilt milk.

Rather, let's find a way home.

Ahem.

Ladies and gentlemen, our new mission:

Find our way back to Altea Castle.

Of course, we should try not to wander

around aimlessly while we find our way.

Luke:

Argh, we've totally fallen behind the others.

...Altean Knights, lost in Altea.

Sir Jagen is going to kill us...

Kris:

I-I'm honestly very sorry...

Katarina:

It's fine.

If we march all night, we can make up for

lost time.

Ah...!

Please, wait! Could that be...?

Ryan:

W-what's wrong?

Katarina:

Over there!

That village is under attack!

(The bandits appear)

Bandit:

Gahahaha!

Steal, burn, loot, pillage!

Kill everyone who tries to flee!

Gahahahaha!

Legion:

Yes, yes, that's it, that's it.

Uwee hee hee!

...The more you alls riot, the smoother our jobses

will be! Uwee hee!

(The scene focuses on 7th Platoon)

Kris:

Bandits, here...?!

We can't just ignore this.

Everyone, move out!

Map Start

(Merric appears on 2nd Turn)

Merric:

Bandits...

Prince Marth would be upset if he saw

this...

Kris:

Hey!

Who are you? You don't look like you're in

league with the bandits...

Merric:

Blue hair... Hhhmm…

I gather you're the commanding officer?

Very well, I shall join you.

The name's Merric.

I'm a mage from Khadein.

Your orders, please!

(Fighting the Bandit boss)

Bandit:

Gahahaha!

Just die already!

(Bandit boss defeated)

Bandit:

Ga...ha...ha...

Map Clear!!

Merric:

I'm glad everyone's safe.

Might you be Altean knights?

Katarina:

Kris, I know who this is! He must be Merric the wind mage.

I heard he even fought alongside Prince

Marth during the War of Shadows.

Wow, I-I'm a little nervous now...

Merric:

Prince Marth summoned me to help train the

new knights. You seem be rather lost and without a map. Would you allow me to escort you all the way back to Altea Castle?

Kris: You would? Yes, please! Thank you very much!

(Scene now on to Legion and Clarisse)

Legion:

Uwee hee hee…

Just as planned.

Clarisse:

Legion.

Legion:

Ooh, Clarisse.

Didn't youses have somethings else to do?

Clarisse:

Quiet, you.

It was easier than taking candy from a baby.

I don't waste my time like you lot.

You and Reese had better end this quick!

It's not hard!

Legion:

Whatever.

In the ends, our sneaking around is going to gets

us results.

We've gots a plan...

We'll kills Marth... without fail.

(Scene now on to 7th Platoon)

Luke:

Finally... Altea Castle.

We're back at last.

Kris:

.....

Katarina:

Huh?

What's the matter, Kris?

Is there something bothering you?

(Answer "Yes")

Kris:

Katarina, did you see him?

Among the bandits...

There was a funny man with a mask.

I didn't count him amongst the felled bandits.

It's a little worrying...

Katarina:

...A masked man, huh?

I'm sorry.

I didn't see him...

Well, it's okay.

We did beat them in the end!

Heehee, all this worrying's gotten me hungry...

Come on, Kris, let's go and find

something to eat.

(Answer "No")

Kris:

It's nothing, I'm just feeling tired and hungry.

Katarina:

Ooh, is that all?

To be honest, I'm a bit hungry as well...

Kris, let's go and find something to eat.

(Scene now on Altea Castle)

Marth:

Please, come in.

Kris:

Commander Kris and Katarina, of the 7th Platoon, reporting as ordered, sire.

Marth:

Please, calm yourselves.

You may stand at ease.

Katarina:

Yet you summoned us so suddenly, milord...

Is it to do with the bandits we subjugated?

Are you, sire, reprimanding us for disobeying

our orders?

Marth:

Not at all–it's quite the opposite.

Your actions have saved many.

As ruler, my duty is to protect my people,

and I am truly grateful for what you did.

Katarina:

We're honored to be of service, but that

was tougher than any of our training.

Phew...

Marth:

Kris, and you as well, Katarina...

I heard from Jagen that you've been

exemplary cadets.

Kris:

Is that so sire?

Sir Jagen never intimated as much...

Marth:

I've seen your skill, and I agree

wholeheartedly with him.

In fact. With enough dedication and hard work,

you might even have what it takes to become my

Royal Guards.

Kris:

Royal Guards, sire?

Marth:

Though the stories tell of me as a great

hero, even I have my limits.

There is only so much that I can do by myself.

That much, I know to be true.

The War of Shadows was won with the aid of

comrades who wished for the same future as I.

'Twas not a lone romp across the land.

I realized, whether in peace or war,

I need people I can trust. Young, dynamic

soldiers who can support and guide me.

Kris:

B-but the Royal Guard exists to protect

the Royal Family... It is a role of immense importance...

Are we even fit for such an esteemed duty?

Marth:

Yes, I believe so.

You and Katarina would make fine Royal Guards.

Jagen feels the same as I.

However, don't feel pressured over this.

After all, you still need to finish your knight training.

So, when the time comes, and if you keep a great record,

I want both of you to think about my suggestion.

End of Prologue 5.
RAW Paste Data
We use cookies for various purposes including analytics. By continuing to use Pastebin, you agree to our use of cookies as described in the
Cookies Policy
.