Sign Up
Login
API
FAQ
Tools
Archive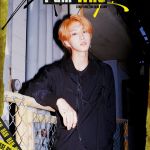 Trapped Activity Check (2)
J15UNG5PLU5H13
Oct 23rd, 2018
90
Never
Not a member of Pastebin yet?
Sign Up
, it unlocks many cool features!
↳ drop your favorite ship :))

» Uhh does all qualify? Because if not then it's Minji and Chenle UwU kiddos.

↳ do you have a theory in mind on how the zombie virus works?

» nO BUT I'D LOVE TO KNOW

↳ what do you think will happen to taeyong's group as they leave and go to a far place to steal their needs? and wHYY

» Oh man, someone might be in trouble because they won't be able to fight too many zombie stuff out in the open and if they are too far away from home, they can't run back to safety in time or something.

↳ who do you want to survive? and why?

UhHhHhh everyone that hasn't died already because I love them all so dearly it's so hard when one dies T T

↳ is this book getting boring D:

NEVER WILL THIS BOOK EVER GET BORING OKAY SWEETIE <3
RAW Paste Data
We use cookies for various purposes including analytics. By continuing to use Pastebin, you agree to our use of cookies as described in the
Cookies Policy
.