Sign Up
Login
API
FAQ
Tools
Archive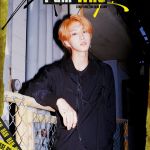 Trench Application
J15UNG5PLU5H13
Oct 26th, 2018
(
edited
)
55
Never
Not a member of Pastebin yet?
Sign Up
, it unlocks many cool features!
"♡ FROM ZERO ♡

°username: @J15UNG5PLI5H13

°password: I'll pm you

°full name: Kang Soojin (강 수신)

°other name: Lillian Kang

°nickname:

» Lily

» Jinnie

» Meme Queen

°birthdate: 22/10/95

°age: 23

°birthplace: Incheon, South Korea

°hometown: Seoul, South Korea

°nationality: South Korean

°ethnicity: South Korean

°height: 177cm

°weight: 56kg

♡♡

♡ US ♡

°background: She was born in Incheon with one younger Sister (5 year age difference) who she cared for a lot. Her parents were constantly busy with work so they just grew up with each other, which is why Soojin learnt skills such as cooking to take care of her Sister. They were in a family with a decent income and hEy went to regular schools. Soojin always stood out as a weird and colourful girl who was a friendly and caring person. She was always encouraging her friends not to be afraid of being unique. She loved styling herself in pretty Colours and so she even set up social media accounts specially to let out her wild side. She managed to land a job as a stylist for Cre.Ker Entertainment and moved to Seoul with her little Sister. but she was knocked unconscious while walking home late from work one night and got thrown into the trench.

°personality:

» MEME; She's an actual meme. Her facial expressions are priceless and worth the laughter. Everyone thinks she's a really weird person but it's something unique you can love about her. She is a weird sunshine that loves to brighten everyone's day.

» CARING; She's a caring and motherly sweetheart. She always puts others before her and will take care of everyone. She is always there to lend a listening ear or a helping hand and you can always depend on her.

» SOFT; Shes a pretty soft person who loves fluffs, plushies and everything cute. She still doesn't know anything dirty-minded at her age. She loves hugs and cuddles and doesn't really hesitate when's it's comes to a bit of skinship.

» SCAREDY-CAT; She isn't really a brave person. Shes easily scared of even the slightest things which is why she hates it when people jumpscare her for fun. She can sometimes be a bit paranoid because of her fears.

» DISTRESSED; Although she may seem all weird and cheerful on the outside, she can be as distressed as LEAVE THE CITY on the inside. She's been stuck in the trench for 4 years and it has been breaking her on the inside bit by bit.

°likes:

» memes

» plushies

» food

» styling

» kpop

°dislikes:

» creepy crawlies

» heights

» nuts (allergies)

» overwhelming situations

» thunder

°trivia:

» She has a White Maltese called Megumi.

» She had exactly 4419 memes on her phone before being thrown into the trench.

» She doesn't know how she survives in the trench without her Doraemon Plushie, one of her essentials.

» She has a black belt in Taekwondo.

» She enjoys cooking or baking and doesn't cry when cutting onions.

» She likes highlighting her hair in different Colours like red or purple for fun.

» She's a big foodie. Cookies and Cream, Kimbap and Iced Tea are her favourites but she'll eat almost anything.

» She worked as a stylist for Cre.Ker Entertainment before being thrown into the trench.

» Her motto is "There's always a rainbow after the rain."

» She has Vasovagal Syncope (VVS) where her blood pressure drops due to emotional stress, fatigue or anxiety and she faints if she doesn't sit down and consume something to rest in time.

♡♡

♡ WHITE LOVE ♡

°face claim: Kim Jisoo (Blackpink)

°backup: Lalisa Manoban (Blackpink)

°love interest: Chae Hyungwon ♡

°slot: Nico and the Niners

°backup: -

♡♡

♡ REMEMBER YOU ♡

°how many years have you've been locked up in the trench?: 4 years

°how did you meet you li?: She happened to have seen him at sitting at Starbucks once and she remembered him as the "Boy from Starbucks" when she met him in the trench. (Sorry I'm not very good with this >.<)

°chance of survival: 80%

°which slots are you close with?: LEAVE THE CITY and MY BLOOD
RAW Paste Data
We use cookies for various purposes including analytics. By continuing to use Pastebin, you agree to our use of cookies as described in the
Cookies Policy
.