Sign Up
Login
API
FAQ
Tools
Archive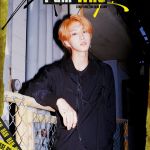 HANN Entertainment Application 6
J15UNG5PLU5H13
Aug 21st, 2018
(
edited
)
74
Never
Not a member of Pastebin yet?
Sign Up
, it unlocks many cool features!
〆USERNAME: @J15UNG5PLU5H13

〆FULL NAME: Jamie Bae Chanyeol

〆NICKNAMES: Chan, Yeollie, Jamie Oliver

〆STAGE NAME: Jamie

〆BIRTH DATE: 25/12/93

〆GENDER: Male

〆HEIGHT + WEIGHT: 177cm/53kg

〆NATIONALITY: Korean/American

〆FACE CLAIM + BACKUP: Jae (Day6)/ Vernon (Seventeen)

〆TRIVIA:

» Can play the electric guitar

» Loves wearing round glasses

» Loves to compose, use his laptop or read a book while cuddling with his cat during his free time

» Role model is Shawn Mendes

» First language was English so he is still a bit weak in korean

〆GROUP/SOLO: group

〆MAIN SKILL + SUB SKILL + WEAKEST SKILL: Vocal + Rap + Dance

〆MESSAGE TO CODY: Might be my last or second last male trainee. Sorry for the flood
RAW Paste Data
We use cookies for various purposes including analytics. By continuing to use Pastebin, you agree to our use of cookies as described in the
Cookies Policy
.