Sign Up
Login
API
FAQ
Tools
Archive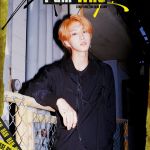 Jinx_ Application
J15UNG5PLU5H13
Jul 17th, 2018
(
edited
)
31
Never
Not a member of Pastebin yet?
Sign Up
, it unlocks many cool features!
[HEART SHAKER]

-NAME. Melanie Lee Taeyeon

-STAGE NAME. Melanie

-AGE. 18

BIRTHDAY. September 21, 2000

-ETHNICITY. American/Korean

-NATIONALITY. Korean

BIRTHPLACE. Vancouver, Canada

HOMETOWN. Vancouver, Canada

-WEIGHT + HEIGHT. 46kg + 165cm

________________________

[LOVE WHISPER]

-PERSONALITY. Melanie used to be a really enthusiastic, funny and loud girl until a bullying incident changed her. She now looks at the world in a slightly different perspective from others. Some people think she's weird because of that while others think that she's very intelligent. She expresses herself in poetic ways and she doesn't talk as much as she's a shy girl. Despite this, she still has a bit of her outgoing personality on the inside that only the people close to her see.

BACKGROUND. Melanie grew up in Vancouver, Canada along with her Brother Mark. They did most things together, especially rapping. They both enjoyed it and they would have random rap battles in their backyard. She used to be a very outgoing and funny girl. She and Mark would have so much fun Everyday until it came to middle school. In school, they were sometimes seen together but Mark mostly hung out with his friends while Melanie didn't have that many. Melanie was being bullied in school and Mark would tell the girls who decide to lay a finger on his Sister to back off. Melanie became a quiet girl who was a very analytical and sentimental girl. She wanted to give up on their one dream: to audition for an entertainment and hopefully get in. They even moved to Seoul to achieve the dream. Mark encouraged her to not leave it just because she got bullied in middle school and he went to audition first to show her that it'll be alright. He made it into SM and Melanie found hope.

-LIKES.

• Bubble Tea

• Reading

• Arts

• Nature

• Plushies

• Beanies

-DISLIKES.

• Mean People

• Bitter Food

• Procrastination

• Annoyance

• Messiness

-TRIVIA.

• She is the younger Sister of NCT's Mark Lee.

• She had gone through depression before which is how she got her sentimental, poetic state.

• She is a real health nut and she tries to avoid junk food as much as she can.

• Her lucky number is 14.

• She has a tendancy to overwork, whether it's practing her dance steps or getting her lines right. She doesn't understand that it isn't good for her health.

• She has slight trust issue and it takes quite an effort to earn hers.

• Her favourite time of day is the evening because she can sit on her balcony alone, listening to music while looking at the pink sky while being lost in her thoughts.

• She thinks that she isn't photogenic. Her fellow members have seen her taking about 20 selfies and saying that they all aren't good.

• People say that she seems older and more mature than she actually is but she'll always deny it. She says she's way too immature.

________________________

[BOOMBAYAH]

-TRAINEE PERIOD. 5 years, 2 months

-PREDEBUT ACTIVITIES.

•She was a model for quite a few clothing brands. She even went to Seoul Fashion Week 2016.

• She was featured in Akmu's Rebye MV.

• She was a backup Dancer for Winner and Big Bang.

-HOW DID SHE JOIN YG. Melanie and Mark had the same dream and it was to become idols, maybe together in the same company or even group. They discovered that ambition when Melanie was only 9 and a few years later, she was getting bullied in middle school because she was a quiet girl and an easy target when Mark wasn't around. She wanted to give up hope on auditioning but Mark wasn't by having it. He went to audition for SM and he got in which sparked a little hope for Melanie and she went to audition for a few companies. Sadly, SM didn't accept her but she was elated when YG did.

-STAGE PERSONA. Melanie completely looses her shy and quiet self when she's on stage. She's her old confident and outgoing self. She has 90% stage presence, but the 10% isn't there because she can get a bit nervous on stage that she looses her focus a bit.

-SCANDALS.

• Melanie and Jisung have been caught together a few times at the bubble tea shop near SM entertainment. That's how many people began to think that they were dating.

• Some death threats were recieved but luckily they were attended to.

-SELF-GREETING. " Be a voice, not an echo. Hello, I'm Melanie! "

-CLOSEST SLOT. Fingertips

________________________

[EGOIST]

-LOVE INTEREST. Han Jisung

-FIRST IMPRESSION.

Boy POV: She's so cute and quiet. Amount of Friends don't seem to be a concern to her. That's unique!

Girl POV: He looks adorable and his smile is really pretty! He's always seen around his friends and he seems like a funny, cute and outgoing person.

-COUPLE TRIVIA.

• They are complete opposites: Melanie is shy and quiet while Jisung is outgoing and loud. At least they say "Opposites attract".

• Jisung is the only one who can bring out Melanie's fun and bubbly self besides Mark, but she doesn't see him often.

• They blush a lot around each other and they try not to "be with each other" when the rest of the members are around as they know the teases will come in.

-REQUESTED SCENES W/ HIM.

• Coming from America, I love to explore Seoul, so it would be nice to walk around with Jisung.

• We love the bubble tea shop near SM so we go there a lot that the owners even remember what they'll always order.

• There are a lot of practice rooms in the YG and SM headquaters, so sometimes they'll come over to each entertainment secretly and spend their time togetherness randomly rapping, dancing and laughing around. They haven't got caught (yet).

-REQUESTED SCENES W/ MEMBERS.

• I hope to have a lot of iconic Vlive moments! :)

• The chance to perform at kcon, mama and maybe even win an award!

• I'd love it if we went on shows like ASC, Weekly Idol and more!

________________________

[WE LIKE]

-USERNAME. J15UNG5PLU5H13

-SLOT. Wee Woo

-BACKUP SLOT. Bboom Bboom

-BACKUP LOVE INTEREST. Lee Felix

-FACE CLAIM. Kim Jennie (Blackpink)

-BACKUP FACE CLAIM. Yeji (Ulzzang: @am01.30)

-PASSWORD. Why So Lonely by Wonder Girls
RAW Paste Data
We use cookies for various purposes including analytics. By continuing to use Pastebin, you agree to our use of cookies as described in the
Cookies Policy
.
Not a member of Pastebin yet?
Sign Up
, it unlocks many cool features!