Sign Up
Login
API
FAQ
Tools
Archive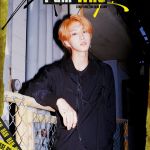 11:11 Application
J15UNG5PLU5H13
Dec 10th, 2018
(
edited
)
154
Never
Not a member of Pastebin yet?
Sign Up
, it unlocks many cool features!
[ Boy ]

USERNAME | @J15UNG5PLU5H13

FULL NAME | Kang Areum [강 아름]

STAGE NAME | Yves

OTHER NAMES | Yvonne Kang

BIRTHDATE | 24/12/98

NATIONALITY | Filipino-Korean

ETHNICITY | Korean

HEIGHT | 171cm

WEIGHT | 52kg

BLOOD TYPE | O

FACTS |

- She can speak Korean, English and Tagalog. Is hoping to learn more languages.

- Famous singer and model in the Philippines who was featured on It's Showtime.

- Was featured in GOT7's "Girls Girls Girls" MV, Twice's "Like Ooh-Ahh" MV and Stray Kids' "I Am Not" Trailer.

- Close friends with GOT7, Stray Kids and Twice. (Hahhaa I'm such a bij :'>)

- She knows many choreographies and is good at freestyling.

- Her role model is Lisa from Blackpink.

- Trained for 4 years and 3 months, 4 years in JYP and 3 Months in LOEN.

- She loves strawberries, henna tattoos, plushies, vibrant colours and fashion.

- She hates small spaces, creepy crawlies, mean people and hunger.

- Her nicknames are Yvie, Reum-Ah, The Silent Beauty, Maganda and Princess Ttalgi.

[ KeePer ]

PERSONALITY |

- Sweet; She can look like a cold person but she's honestly sweeter than sugar. She's always putting others before herself, taking the initiative to help and is kind to everyone no matter what.

- Quiet; She does shout and scream, but it's not that often. Even when talking, her voice is soft but audible. She doesn't talk when there's nothing to say, thus her nickname The Silent Beauty.

- Crackhead; She's secretly such a meme. She can be pretty dumb and clueless as well which is really cute and funny. She's really entertaining and weird that you'll definitely smile around her. She loves cheering everyone up with her bad jokes and weird actions.

- Hardworking; She's a determined girl. She'll work hard to achieve her goals and improve herself. Though this isn't all good, as sometimes she tends to overwork herself and neglect her health.

- Sensitive; She can cry easily. She isn't the best at taking critique. She can take some constructive feedback, but sometimes thing you say can hurt her on the inside yet she never shows it. This results in her being a bit broken.

WHAT COMPANY YOU WERE AT BEFORE COMING TO LOEN | JYP Entertainment

WHY DID YOU LEAVE | She was too pressured by everything. JYP's feedback, seeing all her friends debut without her, vigorous training with no rest, she felt that leaving one of the big 3 companies and joining another would pull some pressure off her chest.

[ Giddy Up ]

SLOT | Dance

BACKUP SLOT | Vocal

FACE CLAIM | Soojin (G)-IDLE

BACKUP FACE CLAIM | Soyeon (G)I-DLE

LOVE INTEREST | Ji Changmin

BACKUP LOVE INTEREST | Heo Hyunjoon

[ Right Here ]

ANY REQUESTED STUFF |

- 11:11 visits the Philippines and she guides them around, and when they return they perform on its showtime uwu

- V L I V E S

- Reality shows and hopefully awards uwuwu

- Talking to Hwall about growing up in the Philippines and teasing him with Tagalog lmao

ANY ALBUM NAME / FANDOM NAME SUGGESTIONS | Nope my stupid brain ain't working

 MESSAGE TO GROUP MATES | Hello everyone! Let's work hard and show the world that we are worthy to top the charts!

COPY THE FOLLOWING SENTENCE,

[ I, RACHEL LEE JISUE VOW TO ALWAYS BE ACTIVE WHEN NEEDED UNLESS I WANT TO BE KICKED OUT AUTOMATICALLY. ]

AND YOU'RE DONE, GOOD LUCK!

[ No Air]

MESSAGE TO ALICIA | HELLO QUEENIE so I'm really late and this form is really rushed SO IM SO SORRY PLEASR FORGIVE ME ILY
RAW Paste Data
We use cookies for various purposes including analytics. By continuing to use Pastebin, you agree to our use of cookies as described in the
Cookies Policy
.