Sign Up
Login
API
FAQ
Tools
Archive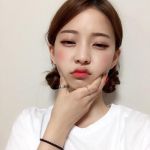 roses
soojoyssi
Oct 3rd, 2017
49
Never
Not a member of Pastebin yet?
Sign Up
, it unlocks many cool features!
|| COME BACK AGAIN ||

Username: soojoyssi

Password: Watch out ( YASS MY JAM THO )

Slot: The Chaser

Backup: Man In Love

Name: Min Nahyun

Stage Name: Vee

Nickname(s): Nana - A childhood name given to her by her parents. MinHyun - A current nickname given to her by her members

|| BE MINE ||

Birthday: 13/11/97

Age: Korean - 21, Int - 20

Nationality: South Korean

Ethnicity: Korean

Birthplace: Gangnam, S/K

Hometown: Gangnam, S/K

Languages: Fluent in Korean, Semi-Fluent in Cantonese

Height: 163 cm

Weight: 48 kg

Blood Type: AB+

|| PARADISE ||

Face claim: Myoui Mina of TWICE

backup: Haseul of LOONA

Love interest: Seo Youngho of NCT

backup: Xu Minghao of SEVENTEEN

How they meet: They met at a convenience story while Nahyun was still a trainee. She didn't recognize him because of his face mask and glasses. She mistakenly took him as a robber and screamed while throwing a tomato at him. She took off his mask and shades and recognized him. She apologized and awkwardly asked for his number. They texted for a couple of months at Kakao Talk until she asked Wonwoo to date.

How they act around each other: They are very sarcastic and comfortable with each-other, you would mistake them as best friends.

|| LATELY ||

Personality: Nahyun is a pretty typical girl, she was not too loud nor too quiet, she did her homework and listened to her parents. Yes she was a good girl, which was why no one liked her. Anyways, she was very talkative although when she talks it's quiet, she mumbles a lot, that's why she failed 'Public Speaking', But she was very bubbly and laughs and smiles a lot. But she's a human so she has negative traits. She was very nosy and spied on her classmates to get the latest gossip. People tell her that she's boyish, they say she has the traits of a boy, because she's strong and can fight back. But all-in-all Sang-Yeon is a very unique girl.

Background: Nahyun was born in Gangnam. As a kid she was the opposite of her current personality, She was extremely loud, talkative and she was quite the troublemaker, she ran a lot and probably ate a little tad too much candy. She was quite the friendly student her whole elementary life. She was friends with all of the students but still, quite the troublemaker. She wasn't the teacher's favourite. But all of that changed when she was in highschool. She finally been quiet, she been behave, but she still can't help talking to other people and tried to make friends so she can find the latest gossip. At age 16 she tried to auditioned for a girl group, although there was a little problem. She couldn't rap nor sing. Well she sang like a goat, so why not audition for rap? She practiced day and night trying to perfect the act of rap until when she was 17, she came back feeling so confident and finally auditioned.

Family: Ha Yoosoo | 49 | Chef | 9

Min Hansol | 52 | Dentist | 10

Min Yannie | 17 | Student | 13

|| BEFORE THE DAWN ||

Likes:

• Writing poems

• Dresses

• High Heels

• Ice Cream

• Soft Drinks

• Tea

• J-Pop

Dislikes:

• Road trips

• Parrots

• Sleeping late

• Crowded places

• Hot places

• Lizards

• Coffee

Trivia:

• She drools while sleeping

• Still sleeps with a teddy bear

• She has a weird laugh

• She loves dad jokes

• She gets scared easily

• She can get carsick fast

• Loves babies

• She can't sing well

• She has super oily skin

• She tries to follow trends as much as possible

• Her charm point is her eyes.

Trainee years: 3 years.

Talent twins: Kim Hyuna

|| THE CHASER ||

Fan service: She is very kind towards her fan she uses aegyo a lot and tries to play with them.

Scandals: Dating scandal (im so cheeky help asdfghjkdls)

Requested scenes: Any thing dating (im still so cheeky)

|| MAN IN LOVE ||

Song suggestions: Mind your own business by Ailee

Solo introduction: "I'm ROSES' Goddess, Vee!"

Group introduction suggestion: "Beautiful Flowers, annyeonghaseyo ROSES imnida!"

|| LAST ROMEO ||

Social Media accounts:

Ig: @veenusmin

Snapchat: @minveenus

Group chat username: Flowers

|| BAD ||

message to author: notice me senpai

|| THE EYE ||

extras: -
RAW Paste Data
We use cookies for various purposes including analytics. By continuing to use Pastebin, you agree to our use of cookies as described in the
Cookies Policy
.