Sign Up
Login
API
FAQ
Tools
Archive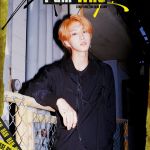 ILWAC Application
J15UNG5PLU5H13
Aug 30th, 2018
(
edited
)
94
Never
Not a member of Pastebin yet?
Sign Up
, it unlocks many cool features!
"GOOOOOO"

Name: Reisha Min Ryuji

Nickname: Rei, Minnie, RyuRyu

Age: 18

D.O.B.: 30/08/00

Nationality: Filipino/Korean

Hometown: Cebu, Philippines

Birthplace: Seoul, South Korea

Height: 167cm

Weight: 49kg

"Really Really"

Personality:

- Weird

- "High"

- Loud

- Mischevious

- Sarcastic

- Insecure

- Sensitive

- Sometimes Nice and Caring

Facts:

- People thinks she's crazy and needs to be sent to a mental hospital when she doesn't.

- Got bullied in school by some bitchy girls that's were more well off than her.

- Has an Older Brother who drinks often and she has to stop his suicide attempts.

- Can be really sensitive and insecure sometimes so be careful about her feelings.

- Has Vasovagal Syncope (VVS) where her blood pressure drops due to fatigue, stress or anxiety and she passes out.

- Has a Black Cat called Huang.

Likes:

- Tricking others

- Lame jokes

- Bubble Gum

- Neon Lights

- Cats

Dislikes:

- Bitchy people

- The Number 5

- Extremely Cute and Girly things

- Salty Food

- Alcohol

Background:

- Was born in Seoul when her older Brother was 7

- Moved to Cebu when she was 4.

- Their Father, the bread winner, died when she was 5.

- Had to help her mother out at a small bookstore after school to earn money while her Brother did all the house chores.

- When she was 11, she found out that her Brother was on drugs due to stress and he got her to join him.

- Got rehabilitated when she was 13 and he was 20.

- Their mother died when she was 16.

- They moved back to Korea together, her Brother still drinking and attempting suicide while she has to stop him.

Trivia:

- Her lucky number is 14 and her unlucky number is 5.

- She carries a bat around with her wherever she goes for some reason.

- Sometimes, she can be the weird mom of the group who tells lame jokes and takes care of them.

- Speaks Rapid Filipino when annoyed, stressed or anxious.

- When she's 101% Sarcastic, it means she's angry or annoyed, so be careful.

"Idol"

Hobbies:

- Skateboarding

- Listening to music

- Singing and Rapping (Only when she thinks she's alone)

- Breaking Things

Skills:

- Really Quick and Agile

- Taekwondo

- Archery

- Combat (with her bat)

"My I"

Slot: Killing Me

Love interest: Haechan

Face Claim: Eunbin (CLC)

"Congratulation"

Requested scene with Love Interest: Caught her sitting alone, singing softly to herself as the tears drop to calm her down. He softens and goes to comfort her.

Questions to me: NIL

Password: We Go Up
RAW Paste Data
We use cookies for various purposes including analytics. By continuing to use Pastebin, you agree to our use of cookies as described in the
Cookies Policy
.