Sign Up
Login
API
FAQ
Tools
Archive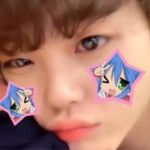 idol gen 74 form #1
romanticism
Jul 19th, 2019
(
edited
)
54
Never
Not a member of Pastebin yet?
Sign Up
, it unlocks many cool features!
❬ DREAM GIRLS ❭ - personal info.

NAME: son naeun (손나은)

AGE: 18

BIRTHDAY:12/29/00

BIRTHPLACE: korea

HOMETOWN: haenam, south korea

FC + BACKUP: hayoung - fromis_9 + sohee - elris

ENT + BACKUP: bnm + bighit

❬ ENERGETIC ❭ - self-evaluation.

MAIN SKILL: dance

SUB SKILL: vocal

VOCAL: 9/10

DANCE: 10/10

RAP: 6/10

VISUAL: 7/10

CHARISMA: 8/10

LEADERSHIP: 5/10

❬ LA VIE EN ROSE ❭ - miscellaneous.

TRIVIA:

- shes a fan of sailor moon

- knows how to compose music and write lyrics

- she collects plushies

- likes strawberries but not strawberry flavored things

- her nickname is nana

- learnt ballet and contemporary for 10 years and hip hop for 5 years

- looks up to iu

SHORT MESSAGE: hello! it's your feather like dancer, naeun also known as nana!! please provide me with your endless support!

ELIMINATION SPEECH: unfortunately, my time at idol generation 74 has come to an end. i apologize for letting down my fans and my friends and family. thank you for your endless support. i promise that when i go back home i'll vote for all of you!!

DEBUT SPEECH: ahhh, i didn't prepare a speech since i thought i wouldn't make it but here i am. thank you so much to the national producers for using your previous vote on me. thank you for supporting me to the very end. i'd also like to thank the trainers for teaching me and helping me improve. most importantly, id like to thank my friends and family for the endless support they've given me. i promise to do my best to prove myself as a member of the group. thank you so much, you won't regret choosing me.

PASSWORD:

ioi - yoojung

wanna one - jihoon

izone - yena

x1 - hyeongjun

TAG 5 PEOPLE: @selfishluvs @shanemaquirang @serinnnnnkim04 @—-snflwr—- @-spideyboi-
RAW Paste Data
We use cookies for various purposes including analytics. By continuing to use Pastebin, you agree to our use of cookies as described in the
Cookies Policy
.