Sign Up
Login
API
FAQ
Tools
Archive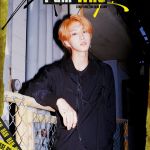 HANN Entertainment | Jinnie Debut Form
J15UNG5PLU5H13
Aug 25th, 2018
(
edited
)
27
Never
Not a member of Pastebin yet?
Sign Up
, it unlocks many cool features!
USERNAME - @J15UNG5PLU5H13

TRAINEE GENDER - male

FULL NAME - Kang Jinhyun

NICKNAMES - Jin, Jinnie, Hyunnie, KJ

STAGE NAME - Jinnie

BIRTH DATE - 11/03/00

ZODIAC SIGN - Taurus

BIRTHPLACE - Osaka, Japan

HEIGHT + WEIGHT - 179cm + 56 kg

NATIONALITY - South Korean

BLOOD TYPE - AB

TRIVIA -

» A big fan of Got7 and Twice

» Plays the drums and the guitar

» Loves to drink bubble tea and eat bingsu

» Fluent in English, Korean, Chinese and Japanese

» Loves to wear beanies and oversized clothing

» Is the total crackhead of the group

» Hates being recognised only for his visuals

SOCIAL MEDIA - @whosjinnie

GROUP NAME + FANDOM NAME + FANDOM COLOR SUGGESTION: Wild&Free + Metazoa + Eden Green

PERSONAL FANDOM NAME + COLOR: Wishes + Dark Blue and Silver

ANYTHING ELSE: I don't think so? I think Jinnie will start smol...

MESSAGE TO CODY: hwiii!!! Thank you for the opportunity to debut and I'm s h a k i n g at how swag Wild&Free is
RAW Paste Data
We use cookies for various purposes including analytics. By continuing to use Pastebin, you agree to our use of cookies as described in the
Cookies Policy
.