Sign Up
Login
API
FAQ
Tools
Archive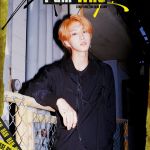 Elite Application
J15UNG5PLU5H13
Sep 1st, 2018
(
edited
)
113
Never
Not a member of Pastebin yet?
Sign Up
, it unlocks many cool features!
LIKE THIS

° Username: @J15UNG5PLU5H13

° Password: Awkward Silence By Stray Kids

CRITICAL BEAUTY

° Name: Park Jirae

° Other names: Ryanne Park

° Stage Name: Ryanne

° Nicknames: Anne, JiJi, Rae

° Birthdate: 02/12/2000

° Age: 18

° Birthplace: Seoul, South Korea

° Hometown: Cebu, Philippines

° Nationality: Filipino/Korean

° Ethnicity: Filipino/Korean

° Height: 167cm

° Weight: 49kg

RUNAWAY

° Personality: She's really bubbly and cheerful girl. She's can be really fun and restless, telling jokes to the others and stealing their pillows. She's also really sweet, hugging others for encouragement and treating them to bubble tea after hard work. Despite her fun-loving personality, she is also really hardworking. After all she's gone through when she was younger, she learnt to be content with what she has and positivity leads to good results. She sometimes overworks though, and it affects her health but as Long as you remind her when enough is enough, she'll be fine. She is a bit insecure about others opinions of her and she's quite emotional too. Overall, she's a dorky, fun, contented, soft, hardworking and sentimental girl.

° Background: She was born in Seoul with an older Sister. Her Father died when she was 5, and had to move in with their Mother's family because her Father was the bread winner and without him, they were having financial problems. Afterschool, Ryanne had to help her Mother at a small bookshop to earn money while her sister did all the household chores. Every now and then, she'd bring her skateboard and accompany her to the grocery store to buy their needs. She discovered her love for performing after joining her school's choir. She taught herself dance, rapping and singing. Her Sister only had interesting in dancing and singing, so she helped her with those areas while rapping was self-taught. They told their Mother that they wanted to move back to Korea to fulfill their dreams, and their Mother consented. She and auditioned for entertainments, she got into JYP. After 4 years of training in JYP, she moved to NightStar and debuted a year later.

° Likes:

- Neon Colours

- Grapes

- Plushies

- Aesthetics

- Cats

° Dislikes:

- Bitter food

- Creepy crawlies

- Hatred

- High Heels (unless forced to wear)

- Procrastination

° Trivia:

- Her lucky number I see 14 and her unlucky number is 5.

- Loves having highlights in her hair, especially pink or purple.

- Speaks rapid Tagalog when stressed, annoyed or angry.

- She's close friends with Stray Kids after training with them.

- She is fluent in Tagalog and Korean. She is still a bit unstable at English, but it's cute when she attempts to speak it.

GORILLA

° Slot: Ocarina

° Backup Slot: Violin

° Face Claim: Kwon Eunbin (CLC)

° Backup Face Claim: Kang Yebin (Pristin)

° Love Interest: Han Jisung (Stray Kids)

° Backup Love Interest: Hwang Hyunjin (Stray Kids)

BEAUTIFUL

° Trainee Length: 5 years/8 months

° Any Entertainments Before NightStar: JYP Entertainment

° Greeting: " Here to light up your world! Hello everyone, I'm Ryanne! "

° On Stage Persona: She's always focused on stage. Sometimes, she can even be seen mouthing the other members lines as she dances. She does glance at the floor sometimes, but she's always trying her best to do her best on stage.

° Off Stage Persona: She's really dorky off-stage. She'll be running around, telling jokes and stealing food. It would be common to find her messing around in the dorms, practice rooms or backstage with Cymbals.

° Personal Fan Name: Neon Lights.

° Personal Fan Colour: Neon Purple, Neon Blue & Neon Pink.

PRETTY PRETTY

° Requested Scenes: NIL I know the scenes you come up with will be great.

° Any Additional Info: Ryanne has Vasovagal Syncope.

° Message for Chai: Ilysm Unnie this applyfic is amazing so gogogo!!! ❤️
RAW Paste Data
We use cookies for various purposes including analytics. By continuing to use Pastebin, you agree to our use of cookies as described in the
Cookies Policy
.