Sign Up
Login
API
FAQ
Tools
Archive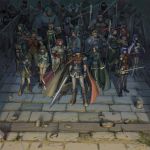 FE12 Story Script Rewrite (Chapter 3x: Lurking Threat.)
SirRagnell
Feb 14th, 2018
(
edited
)
135
Never
Not a member of Pastebin yet?
Sign Up
, it unlocks many cool features!
Chapter 3x: Lurking Threat.

Jagen:

Sire, we have detected an enemy presence in the mountains. It seems there is a battle ongoing.

Marth:

Alright. Jagen, Kris, let us hurry with our preparations!

(Battle Preparations)

(Ready to fight)

Wrys:

So I'm surrounded... How sad, I guess this is the end of the road for me...

Clarisse:

Alright, he's right where we want him. Now to savor his pain as we slowly draw the life from his tormented soul...

Katarina:

Clarisse... The Altean army has arrived.

Clarisse:

Tsk! What a nuisance. Reese, I hate to admit it but you were right about this outcome. Alteans never abandon their comrades... You sure learned a lot about that trash from your time staying with them.

Katarina:

...

Clarisse:

My job is to kill, one by one, everyone who sided with Prince Marth in the previous war. Because if his allies live, they'll eventually rejoin with him, one after another. And that would be VERY bad for the Emperor.

Katarina:

...Clarisse, are you really up for the task?

Clarisse:

I don't need to get MY hands dirty, do I? My underlings can get the job done. We're hardly dealing with strong enemies.

Katarina:

You'll die if you underestimate Prince Marth and his army, Clarisse. I've seen firsthand what they are capable of. Even the new knights, like Kris, were able to defeat me and my forces.

Clarisse:

What? You really think they can take us down that easily? Ha! Just sit there and watch. Watch hard and well as I kill your beloved Alteans. Oh yes, and please... don't get in my way, okay?

Map Start

(Fighting Clarisse)

Clarisse:

Wait... what? Where did you lot come from!?

(Defeating Clarisse)

Clarisse:

Tsk! This is bad... To think I'd run from the likes of you... I'll remember this!

(Clarisse leaves)

Clarisse:

Alright, I'm leaving the rest to you. Reinforcements are coming to help you soon, so hurry and kill them already. If by some chance those rats aren't dead when I return... I'll make sure YOU'RE dead, got it?

(Kris talks to Wrys)

Wrys:

Oh, my savior Kris. Thank you kindly for coming to my rescue. I cannot fight, but I can heal your wounded. Take me with you and you'll be very glad you did.

Map Clear!!

Kris:

Sire, the battle is over.

Marth:

Thank you, Kris.

Jagen:

We've repelled the assassins, but we cannot afford to linger here.

Marth:

I agree. I'm worried about Ogma and the royal children. Let us hurry to Lord Wendell's place!

(Scene on Clarisse and Katarina)

Clarisse:

...Hmm. The Alteans are better than I expected. Oh well. We can always snuff them out later. I'll let them live for now.

Katarina:

I warned you. The Altean army is strong...

Clarisse:

Gosh, Reese. You can be annoying sometimes. Whose side are you supposed to be on? Don't tell me you're thinking of betraying Lady Eremiya?

Katarina:

...No. That thought could never cross my mind. We all live for Lady Eremiya. For her sake... I will kill Prince Marth.

(Wrys' haircut)

Wrys:

Greetings, Kris, my friend. It's been a while since we last had a decent conversation.

Kris:

Yes. Ever since the knight training, eh, Father Wrys?

Wrys:

Indeed, and you've become even stronger than you were then... ...Oh, did your hair grow a little?

Kris:

Really? Well, it is true I haven't had the time to take care of it since we left Altea...

Wrys:

You know, a haircut like mine is astonishingly easy to take care of.

Kris:

I-I can imagine...

Wrys:

If you so wish, I could shave your head, so it's like mine.

Kris:

...What?

Wrys:

As I'm a monk, I'm quite used to shaving heads. It's quite alright. If you don't like it, you can just let your hair grow and have your previous haircut back. So what do you say? Would you allow me to shave your head?

(Say Yes)

Kris:

Yes, please.

Wrys:

Very well. Then, give me a moment to prepare. ...Are you really sure?

Kris:

Y-yes...

Wrys:

Then, please sit down. Now, close your eyes...

(Say No)

Kris:

I-I think I'll pass.

Wrys:

I see. It's a pity, but perhaps it's for the best. In any case, Kris, I'm counting on you from now on.

End of Chapter 3x.
RAW Paste Data
We use cookies for various purposes including analytics. By continuing to use Pastebin, you agree to our use of cookies as described in the
Cookies Policy
.