Sign Up
Login
API
FAQ
Tools
Archive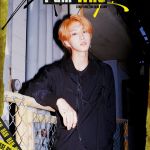 HANN Entertainment Application 5
J15UNG5PLU5H13
Aug 20th, 2018
(
edited
)
80
Never
Not a member of Pastebin yet?
Sign Up
, it unlocks many cool features!
〆USERNAME: @J15UNG5PLU5H13

〆FULL NAME: Jeon Minji

〆NICKNAMES: Minnie, JiJi

〆STAGE NAME: MJ

〆BIRTH DATE: 22/05/01

〆GENDER: Female

〆HEIGHT + WEIGHT: 167cm/46kg

〆NATIONALITY: Korean

〆FACE CLAIM + BACKUP: Yeojin (Loona) / Yehana (Pristin)

〆TRIVIA:

» Has a kitten called Yeoyeo

» Hates being called anything like cute or small

» Busked C-Pop songs in Shanghai as a child with some friends, which is how she got scouted

» When she moved back to Korea, she became close friends with Yang Jaewon.

» Is the "sweet but savage maknae" type

〆GROUP/SOLO: group

〆MAIN SKILL + SUB SKILL + WEAKEST SKILL: Rap + Vocal + Dance

〆MESSAGE TO CODY: Okay trainee 5 I had to fight @changbeanie0305 for yeojin a stray a fact xd I'm sorry
RAW Paste Data
We use cookies for various purposes including analytics. By continuing to use Pastebin, you agree to our use of cookies as described in the
Cookies Policy
.