Sign Up
Login
API
FAQ
Tools
Archive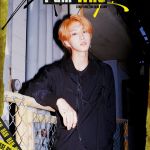 Be Entertainment Application (4)
J15UNG5PLU5H13
Oct 16th, 2018
(
edited
)
71
Never
Not a member of Pastebin yet?
Sign Up
, it unlocks many cool features!
IDOL FORM

username; @J15UNG5PLU5H13

password; Namjoon and Yoongi

birth name; Jeon Changmin

other name; -

nicknames; Minnie, Chan, Changie

gender; Male

age; 17

birthday; 14/05/01

birthplace; Incheon, South Korea

hometown; Seoul, South Korea

nationality; South Korean

ethnicity; South Korean

spoken languages; Korean

height; 165cm

weight; 47kg

blood type; A

personality;

» Cute; He's pretty good at aegyo and is even cute without doing aegyo. He's quite charming and love to show it off playfully. He'll definitely steal your heart if you aren't careful!

» Innocent; He has no knowledge over dirty jokes or anything. He's a completely innocent angel which is always clueless to any dirtiness or even swear words. The members find him so precious and want to keep him that way making sure that no dirtiness or other bad things reach his understanding.

» Savage; Despite his innocence, he has a sassy and savage side that can be brutally honest to you. He doesn't mean to hurt anyone, he just wants a kick out of it. He'll always be ready to make a run for it but he'll always be teasing his members and making savage comebacks. Even with his mischevious and sassy side, his members still love him.

» Playful; He's an immature and playful person who loves pranks. He's a 4 year old in the body of a 17 year old. He's the mischievous type who would prank the other members or do weird things like smiling with an orange. He just loves to have fun, so just let him enjoy or he wont be very happy or cooperative with you!

background; He was born as an only child in Incheon. He grew up as an extremely playful child who was very active. He wasn't very good at studies though, and his parents wanted him to become an architect. He never actually had interest in becoming a performer as his interest was mostly on sports, comics, food and fun. What did spark this interest when he was 14 years old was BigBang. He wanted to be a singer then, but his parents weren't really supportive of his decision. He ended up leaving them to go all the way to Seoul himself just to fulfill his dream. He was upset having to part from his parents just to chase his dream, but he didn't go back. He auditioned for many companies who turned him down, and he felt disheartened. He was about to give up when he auditioned for Be Entertainemnt, but they accepted him and he saw hope.

trivia;

» He's allergic to carrots and eggplant.

» He wants to visit the Philippines one day and maybe even live there.

» If he wasn't an idol, he would've wanted to become a Basketball player.

» He's the messiest member out of all 18 of the them.

» He loves kimbap, strawberry milk, red, dogs and skateboarding.

» He is a big fan of assassination classroom.

group, solo or co-ed; group

if group wich one; Ace H

backup; Ace S

position in that group; Lead Dancer, lead vocalist

backup; Lead Dancer, Lead Vocalist

face claim; Sunwoo (The boyz)

backup; Haechan (NCT)

second backup; Lucas (NCT)

stage name; Fiel

self evolution; nothing more than 380

vocal; 100 / 100

rap; 50 / 100

dance; 90 / 100

visual; 60 / 100

charm; 80 / 100

training years; 1 year 4 months

introduction; " Hello everyone! I'm Fiel, the ace of your heart! "

audition link; https://youtu.be/LWUvOQODJgI

requests; none

extra; none

message to the ceos; Thank you for giving me the chance to perform with such amazingly people. I'll work hard to make you proud!!

message to us; Thank you for dealing with my flood of trainees. This is the second last one before I finished my shower of love and support hehe <3
RAW Paste Data
We use cookies for various purposes including analytics. By continuing to use Pastebin, you agree to our use of cookies as described in the
Cookies Policy
.