Sign Up
Login
API
FAQ
Tools
Archive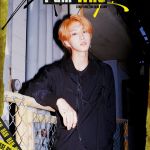 EGO¡ST Application 02
J15UNG5PLU5H13
Sep 18th, 2018
(
edited
)
39
Never
Not a member of Pastebin yet?
Sign Up
, it unlocks many cool features!
❛ EGOIST FORM ˊ

↳ REFRESH. #basic info

( ¡¡)❅ @J15UNG5PLU5H13

NAME 》 Ryanne Park Jirae

YEAR OF BIRTH 》 1999

NATIONALITY 》 Korean/Filipino

HEIGHT 》 169cm

WEIGHT 》 50kg

FACECLAIM 》 Eunbin (CLC)

2 BACKUP FC 》 NIL?

↳ SUMMER KISS. #persona + background.

MOTTO 》 " Sunlight has to penetrate clouds to give us light to see. I'm going to be like sunlight and get through the challenges and brighten everyone's day in the process. "

HOBBIES 》

- Listening to music

- Skateboarding

- Nature

- Fruits and Vegetables

- Hair Highlights

PERSONALITY 》

- Crackhead; She's a really sunny person who won't fail to make your day so much brighter. Her 4D personality can make you snort with laughter. She has bad dad jokes, weird actions and her dolphin laugh that's contagious.

- Caring; Shes really caring, especially towards the other members of Boysenberry. She'll always be helping them if they are struggling to remember lines or share her hot pack when it's cold. What a soft and sweet girl!

- Hard-working; From the way she wasn't raised, she is very hard-working. She is always grateful for what she has and works hard to achieve her goals. She dedicates everything she does to her Mother, who went through her own struggles for her.

- Savage; She can be savage towards the other boysenberry girls sometimes. It isn't expected from the sunny sweet girl like her. She'll say whats on her mind and move back with her hands up for Defence while laughing.

- Negative; She can be quite pessimistic sometimes. She sometimes feels like she isn't good enough, that she has a bad personality and more. Though I f she's feeling pessimistic, she won't show it because one of her goals in life is to spread positivity, not negativity but bottling it up isn't much good for herself.

BACKGROUND 》 She was born in Seoul on November 30. She only has an older sister and no brothers. She lived in Seoul until she turned 5 and her family decided to move to Cebu, her mother's hometown. A few months after moving, her Father died. This resulted in financial problems, as their Father was the bread-winner of the family. She had to help her Mother with house work Everyday after school and homework, running all the errands bf household chores. Her Sister helped their Mother earn money in the small bookshop that they worked at. She had always loved music and performing from a young age, from the traditional tinnikling Dance to kpop and much more. She was also in her school choir. She was set on the idea of becoming a performer and we was going to work hard to achieve it. When they pulled out of their financial crisis when she was 14, she and her Sister moved back to Seoul while their Mother stayed in Cebu, retired. The sisters were going to continue their studies in Seoul and had part-time jobs to send money back to their Mother. Ryanne auditioned for Fantagio Entertainment and she was accepted. She trained for 3 years and 6 months before finally debuting in Boysenberry, even though the group didn't go that far.

↳HOBGOBLIN. #career

TRAINEE OR

DEBUTED IDOL ? 》 Debuted Idol

SLOT NAME 》 Boysenberry

COMPANY 》 -

TRAINEE PERIOD 》 3 years 6 months

PREDEBUT ACTIVITIES 》

- Modelled for entire training period.

- Featured in ASTRO's Confession MV.

↳ FIRST LOVE. #egoist

CLASS [ A - F ] 》 B??

POSITION 》 Rap

SUB POSITION 》 Vocal

INTRODUCTION 》 " Annyeong! It's Boysenberry's Sunny Rapper, Ryanne! "

RANK 》 1-6 of course!

↳ BLACKDRESS. #♡

PASSWORD | favOriTe

MESSAGE TO ELL & BAZ | Hi Hello! It's me again and thank you so much for waiting for my late form you guys really are the best, I mean it.
RAW Paste Data
We use cookies for various purposes including analytics. By continuing to use Pastebin, you agree to our use of cookies as described in the
Cookies Policy
.