Sign Up
Login
API
FAQ
Tools
Archive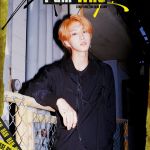 MIX9INE FEMALE
J15UNG5PLU5H13
Sep 4th, 2018
(
edited
)
64
Never
Not a member of Pastebin yet?
Sign Up
, it unlocks many cool features!
USERNAME: J15UNG5PLU5H13

FACE CLAIM + BACKUP: Heejin (LOONA) + Eunbin (CLC)

COMPANY + BACKUP: Pledis + Blockberry Creative

NAME: Rachel Lee Jirae

AGE: 17

BIRTHDAY: 22/09/00

MAIN SKILL + RATING: Dance 10/10

SUB SKILL + RATING: Vocal 9/10

WEAKEST SKILL + RATING: Rap 6/10

ETHNICITY: American/Korean

NATIONALITY: American/Korean

BIRTHPLACE: Seoul, South Korea

HOMETOWN: Los Angeles, C.A.

HEIGHT: 166cm

WEIGHT: 49kg

TRIVIA:

» Left her family to persue her dream of being a kpop idol.

» Has 41 plushies and her cat, Huang likes to hide amongst them.

» Was a child model in LA before she came to Korea.

» Is fluent in English but still struggles in Korean a little bit.

» Is a workaholic who might overwork sometimes.

AUDITION VIDEO LINK: https://youtu.be/Z0kCvWUl8ek

INTRODUCE YOURSELF, SHORT BUT INFORMATIVE: " Hello everyone, I'm Rachel! I'm so happy to be here and show the world what I am capable of doing! "

MESSAGE TO OTHER CONTESTANTS: Hey everyone! I hope we can all get along and have memorable moments together for the period of time we'll stay.
RAW Paste Data
We use cookies for various purposes including analytics. By continuing to use Pastebin, you agree to our use of cookies as described in the
Cookies Policy
.