Sign Up
Login
API
FAQ
Tools
Archive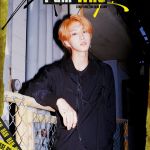 Aphrodite Profile Application
J15UNG5PLU5H13
Oct 28th, 2018
(
edited
)
77
Never
Not a member of Pastebin yet?
Sign Up
, it unlocks many cool features!
birth name : Gou MingXing (郭 明星)

other name :

» Alexis Gou

» Kwon Eun-byul (권 음별)

nick names :

» XingXing

» Alex/Lexi

» Little Star

stage name : Alexi

position(s): Lead Vocalist, Main Dancer, Maknae of ROUGE, Center

height : 163cm

weight : 48kg

birthdate : 22/10/00

nationality: Chinese-Australian

blood type : O

zodiac sign : Libra

facts :

» She hates being called Eunbyul or any nickname related.

» She is fluent in Korean, Chinese, English and French.

» She has the deepest voice in the entire group.

» If she hadn't become an idol, she would've wanted to become a choreographer.

» Her role model is GOT7 Kim Yugyeom.

» Her motto is "The Darkest Nights Produce The Brightest Stars."

specialty: Acrobatic stunts

personal fandom name : Galexis

personal fandom color : Scarlet Red

personal greeting : " Annyeong!! I'm your shooting star from China, Alexi imnida! "
RAW Paste Data
We use cookies for various purposes including analytics. By continuing to use Pastebin, you agree to our use of cookies as described in the
Cookies Policy
.