Sign Up
Login
API
FAQ
Tools
Archive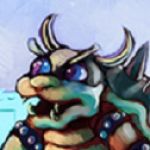 Dadonequus Discord Part 223
Erf1111
Jul 10th, 2016
(
edited
)
257
Never
Not a member of Pastebin yet?
Sign Up
, it unlocks many cool features!
>A gaming championship? Huh....that sounded familiar.

>Nevertheless, as tempting as it sounded. You didn't want to participate. Once, you were a human who had damned good video game skills. But that was due to most of your life being mostly video games and anime. Coming to Equestria....it wasn't worth taking in the addiction again. Even if it was also a Equestrian past time as well. You'd leave these ponies to their game. Besides, the music was quieting down anyway. Thank god Chrysalis has no interest in games. Maybe you should immediately go to Fluttershy afterall. If anyone could calm the savage heart. It was her.

>While lost in thought however, you feel something go around your neck.

"What..huh?"

>You look down, you had a sign that said number nineteen

"Where did this...?"

>You look to your right, Nymous was wearing number eighteen.

"...uhhhh...what's this?"

>"What's it look like? It's your number. I signed both of us up for this"

>Wut?

"What?! I thought we came here to stop the dubstep and move on...or kill eachother or something."

>"We did, and it stopped. Besides, crushing you and all these degenerates seems like fun to me. Being crowned queen is just the icing on the cake"

>Was she serious?

"You...what? Look, first of all. I want to avoid this kind of thing. It was almost most of my life back home. And two, that's an arcade game. You're going to get whupped"

>"Anon, having infil-"

>You roll your eyes

"yeah yeah, having gone and infiltrated so many places you probably played sooo many games. Yeah I get it. What you don't get is arcade games are utterly different. They are bit munchers. And it looks like were expected to do this in one credit. You are going to get mulched in stage one."

>Nymous did a low growl "Then put your money where your mouth is. I propose a wager."

"A wager?"

>"Did I stutter? Yes, a wager. If you win. I promise to play nice with Twilight tonight. I will do no snooping, scheming, or anything you'd consider villainous in any way.....Queen's honor"

>.....that...didn't sound bad. Actually....hehehehe

>You act worried however

"A-and if I lose?"

>Nymous evilly smirks "Then you stay out of my way when it comes to Twilight. You let me live with her as long as I am able and do not cause me any trouble while I get what I want from her. That also means, not convincing Discord in anyway to spoil my schemes....Do we have deal? Or are you going to wimp out and not take a chance?"

>You shiver, but you only pretend to....you were scheming....and it felt...nice...to actually manipulate the situation....it felt nostalgic.

"It sounds...o-ok. B-but, maybe a little incentive? a little more I mean...Because, y'know. It almost feels like you know you'll beat me already...I feel I'd do better if I could get a little more determined."

>Nymous rolls her eyes "Fine...I'll also be a nice cuddly teenaged mare anypony couwd wuvvvv to your aunt waunty" She says in a mocking kid like tone "....Is that enough?"

>You immediately nod and shake her hoof

"Done!"

>Oh boy...was she so ever fucked.

>But Nymous felt pretty confident with herself. How hard could an arcade game be? Certainly one as old as her has infinite experience to handle anything thrown at her.

>You?...even if you can't beat the game. You knew you could crush her....like a bug

>"OK! IRON WILL SAYS, IF YOU'RE NUMBERS ONE THROUGH TWENTY FOUR! THEN GET READY TO MAKE A HIGH SCORE!" Iron Will Flexes again as airhorns go off. "NOW REMEMBER, THE MOMENT YOU RUN OUT OF ALL YOUR FREE GUYS. YOU'RRRREEEE OUTTA HERE. DON'T MATTER IF YOU'RE A COLT,FILLY, OR DONKEY! NUMBERS TWENTY FIVE TO FIFTY NINE, YOU WILL FORM A LINE AND WAIT YOUR TURN. ONCE A PONY STEPS DOWN, IT'S YOUR TURN TO TRY TO GET THAT CROWN! OHHH YEAH! CAN I GET SOME CHEERS OVER HERE! THE GAME IS ABOUT TO START AND YOU ALL DON'T LOOK EXCITED ENOUGH!" Iron Will pumps up his muscles "C'MOOOOOOOON"

>The crowd cheers as the line is formed. You,Nymous, the rest of the participants, and even a familiar....oh god..a very familiar propeller capped colt step up to play the game.

>You all get seated, and wait for the go to press the "Player 1" button. You thought it may have been a fighting game of some sort. But this was a SHMUP. It seemed to be simple. power ups for your main shot and a barrier you can bring up. But it had a gauge, and once it reached zero you couldn't use it until you could recharge it with special powerups. The graphics, at least to you...were dated. Really early 90s stuff. The stick and buttons were definitely made for hooves as well....hmmm. You also notice the unicorns that were lined up start using their magic to project the screens onto the projector screens. Interesting...

>You take a look at "Button Mash"..if that was still his name. He looked determined. Then there was Nymous....She was tapping at the stick. Actually paying attention deeply to the "How to play" screen.

>"ALRIGHT! LET'S GET THIS STARTED! EVERYPONY, HOOVES OVER THE BUTTON. AND.......GO!"

>and the game was on. And....how underwhelming it was.

>The first stage was like Gradius III on the easiest setting. Or hell, Goukyjou Parodius on skill setting two....It was easy. And you also noticed the first stage enemies were changelings.

>You had it easy enough to shift your eyes around at your competition. You could already tell most were struggling through the simple bullet shots from the Changelings. Nymous herself? She seemed to be doing fine, but was agitated.

>And then....The boss...and you nearly lost it. Even though you should have expected it. You even let out so she can hear.

"Oh man, Queen Chrysalis is the first boss? That's hilarioussssss"

>you laugh. And you could hear her groan....in fact.

>That was it for her, she purposely crashed her alicorn character into herself multiple times in a rage. "This stupid game is garbage!" She let's out.

>You just silently chuckle to yourself as she tries to save face by explaining that the game just frustrated her, and that she didn't think arcade games could cause that in her or anypony really. But really, she was internally angrier than ever before. She lost the bet...you wonder if she'd even keep it.

>As for you, you just played on. the game seemed to have six stages. Because upon reaching "Final Stage" there was only two competitors left. You and Button Mash. You had defeated the likes of Chrysalis, Flying Manticores, A nightmare moonish like creature, Twin headed dragons, and windigos...but who was the final boss?

>You were sweating at this point. All throughout the run you had only lost one life. The games challenge was climbing to something that actually made it tough. And you were getting more into it by the second, you're pupils were wide, your focus was dead set, you were shaking, you were even salivating at this point....you had to win

>This feeling, this lost feeling. This craving...this desire....gaming....was in your blood.

>And you would crush that caramel colored OC yet not but whatever faggot to the ground.

>"LOOK AT THOSE TWO LITTLE COLTS GO! WITH ALL OTHER COMPETITORS CRUSHED, IT IS ONLY BETWEEN NUMBERS ONE AND NINETEEN! IRON WILL IS PUMPED, IS EVERYPONY ELSE PUMPED! NEVER BEFORE HAS ANYPONY SEEN THE FINAL STAGE BEFORE...though in my opinion, I've never actually seen this game but..LET'S GET A CHEER FOR OUR CHALLENGERS! HUUUYEAAAHHH!" Iron will inspires the crowd to cheer the both of you on.

>Fuck that other guy.

>Through bullets, and a mix of each stage's enemy set. You finally reach the final boss....Was it Discord?

>Nope...it was...Tirek

>The game Tirek announces your demise, you can hear that Button Mash has reached the final boss as well, but you could also hear him whimpering...was he breaking?

>You also notice a timer show up on the right side of the screen...you also noticed....your shield gauge slowly draining.

>"I'M GETTING WORD FROM THE PONIES FROM ULTRACRASH THAT THIS FINAL BOSS IS LIKE NO OTHER, IT WILL CONSTANTLY DRAIN YOUR MAGIC GAUGE TO ZERO THE LONGER THE FIGHT GOES. ALSO, IF THAT MAIN TIME REACHES ZERO...IT'S GAME OVER! BUT......does Iron Will really have to say that?...Really?...ok...FEAR NOT EVERYPONY, OUR HEROES WILL STRIKE DOWN THE EVIL CENTAUR BEAST WITH THY MAGIC POWER, FOR YOU SEE, BEFORE THE BATTLE BEGINS, THEY WILL HAVE UNLOCKED THE RAINBOW POWER, WHICH WILL GIVE THEM A NEW OPTIONAL ATTACK ..INSTEAD OF A SHIELD, THEY GET RAINBOW SPEARS...BUT IT STILL USES THE MAGIC GAUGE, AND WITH A TIMER TO WORRY ABOUT...WILL THEY DEFEAT TIREK? OR WILL HE TURN THEM TO MINCEMEAT?!" Iron Will had to turn his head slightly so he could groan...that didn't sound right coming from him. It sounded...dumb to him.

>Rainbow Spear? huh....

>You begin the fight as Tirek just aggressively tosses millions of projectiles mixed with laser beams. Hell, the laser beam takes your second life as it takes Button Mashes second to last.

>Well shit...

>and the problem was the timer was like two minutes and your basic shot did shit, the rainbow spear did good damage but the drain and only three to four uses meant you couldn't win in time.....dammit...come on.

>You could already hear Button Mash throw a fit losing to Tirek as you continued the assault....but..the timer..THE TIMER.

>you were sweating bullets....oh god....it was actually intense. No wonder noone has beaten this thing. Most of the ponies sucked at games compared to you. But this timer made things cheap as hell...if only your basic....wait....fuck this shit.

>You purposely kill yourself on Tirek, and upon next life fire off all the spears you can, then crash and die, and repeat until you were on your last life.

>There....that actually made a dent

>"IRON WILL.....Is impressed. DID EVERYPONY SEE THAT? NOW THAT'S AFFIRMATIVE ACTION! WHEN THE FINAL BOSS IS ABOUT TO BEAT YOU DOWN, YOU CRASH INTO HIM AND GO TO TOWN! BUT EVEN WITH TIREK ON HIS LAST LEGS, NINETEEN ALSO ONLY HAS A SINGLE LIFE LEFT AND THE TIMER IS ON THE SECONDS MARK. IT WON'T BE LONG....though either way, he's technically the winner...wait..you don't want me to say that? I mean, he does have the high score. hmm? ok......YEAAAHH! THIS WILL DETERMINE IF NINETEEN...WHO I JUST LEARNED IS NAMED ANON....Iron Will finds that pretty weird, you'd think they'd tell me sooner...anywho....IS THE TRUE KING OF THE ARCADE! LET'S GIVE HIM THE BOOST HE NEEDS! LET'S CHEER HIM ONNNNN! YEAAAAAAAAAAAAAAAAAH!"

>Just stay focused, ignore the crowd, ignore the cheers, focus on the bullets heading towards you, not the others....

>10 seconds, Tirek has a sliver of health.

>5 seconds, just a few pixels now, dodging his lasers, which have now gone nuts.

>2 seconds, one pixel

>1 second....

>.............

>Tirek..........

>Explodes.

>The crowd explodes in cheers as you nearly fall over, you don't even get a chance to insert your name on the high score screen. Iron Will walks up to you and holds you up by your good foreleg. "LADIES AND GENTLECOLTS! WE HAVE OUR ARCADE KIIIING! ANON HAS DEFEATED THE UNDEFEATABLE. HE HAS CRUSHED TIREK AND....Well he miss putting in his high score...hrm? oh, you guys can edit it later..right..INSERTED HIS PLACE IN HISTORY! ANON! FOR YOUR VICTORY, NOT ONLY DO YOU WIN THIS CROWN!" Iron Will slaps a crown onto your head "BUT THE ARCADE CABINETS FOR BOTH SUPER ALICORN BLASTER ONE AND TWO WILL BE SENT TO YOUR HOME! DO YOU HAVE ANYTHING YOU WANT TO SAY TO THE CHEERING CROWD?" Iron Will holds a microphone towards your mouth

>You were frothing at the mouth as you had a retarded smile on your face

"fmmggmmnngmmmnnbdbdjdmsssssss"

>"YOU HEARD IT HEAR FOLKS, THE KING HAS GIVEN HIS MESSAGE WHICH IRON WILL CAN'T ACTUALLY REPEAT BECAUSE HE DIDN'T ACTUALLY UNDERSTAND A WORD OF IT!.....oh..he has arcade drought? give him a pat on the back? firm?....ok got it..."

>Iron Will gives you a firm hit on the back, making you lose your breath for a second. You come to your senses after you take a spit, and he gently holds you up on his palms as he asks again, as he was being told through his microphone receiver to ask the question again "SO ANON, DO YOU HAVE ANY ACTUAL WORDS FOR THE CROWD?"

>With your senses returned. You looked down at the crowd. Button Mash seemed to have really rage quit, he was gone...probably might hear about that later. The rest were cheering on the hero colt, who was even able to defeat great foes in video games. You could even hear them mentioning that the fight with Rainbow Dash was possibly even a ruse to not completely pound her to dust...and then..

>Nymous...she was still in the crowd. Upset sure, but she was still there. She didn't slink off to do anything else...she actually waited for you to finish. Did she ever cheer for you?...you didn't know....but..you'd pretend that she did.

"Actually...I do have something to say....There's a pony who has gone through as many hardships to get where she is today. And I think she deserves to come up here. For what is a King without a queen? Would it be ok to invite my sister up here and dub her the queen...and stuff?"

>You give Iron Will a cute pout.

>"Well uh...." Iron Will whispers into his receiver microphone..then nods "Well sure!...it's just kinda weird actually. y'know....Kings and Queens...are..sorta married...Iron Will doesn't wanna think about it too much....ANON'S SISTER! C'MON UP AND RECEIVE YOUR CROWN AS QUEEN OF THE ARCADE...This job isn't too bad...them foals smiles actually make me feel pretty good. Then Iron Will remembers there's stallions who participated and that just....hurts for some reason...ehh."

>Nymous looked surprised. She looked left and right, and said in a somber and lonely voice "..But I didn't win"

>You smile gently at her from atop the stage

"But you did...you won a brother. Now come on up! You know you wanna"

>Speaking of wanna...you kinda wanted to shove your win in all their faces. It felt good to game again...but...had to hold it in. Especially since this was a good moment to get Chrysalis to feel actual love

>"A-alright..I..I suppose...I don't feel I deserve it...but..mnn" Nymous reluctantly steps up on stage as you give her a small rub with your head to her side. The crowd seems to have liked it. Cheering on the sister of the hero colt, though some seemed lost, not knowing you had a sister at all....which you didn't really. Nymous didn't even seem to notice a crown be put onto her head as she just stared onto the crowd with a gentle yet quivering smile..and then you saw it....tears slowly running down her eyes...oh man...

>Iron Will holds a microphone over her, asking if she'd like to say a few words

>"....I know I've only been here for less than a day...But I recognize a few of the adorable and loving faces I had seen at the school...and I can already feel the acceptance from each and every one of you. Yes, I am Anon's sister...I know some may be confused..but it's the truth...In my heart, I care about him very much...and I'm glad to see that he cares so much about me...." Nymous looks to you with sad eyes "T-thank you so much...Anon"

>The both of you stood up there. soaking up the praise and cheers.

>after that was done, you had to sign a few papers. They also wanted to know where to ship the arcade cabinet to. In which you just wrote in "Princess Twilight's Castle"...you were sure Twilight would hold it for you until you could get it later.

>When you and Nymous stepped down from the stage. You were both immediately swarmed by the crowd as they bombarded you with questions and praise.

>"That was the most amazing thing I have ever seen!"

>"How long had you been playing the game, Anon?"

>"I never ever have seen Anypony play like that before!"

>"Can I hug your sister?"

>It actually felt pretty good to get everyone's praise and cheers. You thought it wouldn't feel great. But you could feel your ego inflating. On earth, you were above average. In Equestria...you were a gaming GOD.

"Heh, believe it or not. That was my first time playing."

>"What?! No way! That's such a lie"

>"Maybe it isn't, I've never seen him at the arcade before"

>"Or even near it"

>"Maybe that's his talent! He's good at everything!"

>"Maybe we should revive the club"

>".....Erm...Miss Nymous, could I get a kiss?"

>You grin a toothy grin. Oh yeah, whatever rep you had that was ruined probably fixed itself and went up a thousand fold.

"Hey now guys, relax. No need for a club when I'm already among you. Just uhhh...remember this. If there's danger, and I'm around. I'll pretty much take care of it....yeaaaah!"

>You struck a pose, and absorbed the excited crowds cheers and claps on the ground. Nymous was busy giving hugs to any colt that wanted it. At this moment, you were the perfect pair.

>With the event over. You positioned your crown to tilt a little to its side. You thought it made it seem quarky and cute. Nymous just kept it right up on her head in a normal position. You both only stuck around as much as you needed to and as soon as you felt comfortable leaving. You left with Nymous, letting the colt crowd know that you had "things to do" and not to follow. And like sheep, they complied.

>Maybe Chrysalis wasn't wrong after all. A little confidence and smug didn't seem to hurt here and there. You got out of that place pretty painlessly. Accepting your prize and gaining the praise. Hell, you completed a game noone else could. Albiet...there was probably humans who could have done it first try. Not like you'd ever have to worry about any other humans at all really. It'd really suck if there was a human turned unicorn. He'd probably be an asshole who'd be able to kick your ass unless you had the horn....the horn..

>You hoped you'd get that back.

>As you and Nymous step away from the crowd. You look to her with a smile.

"How are you feeling Chrysalis?"

>"....I feel....pretty good" She says with a soft and positive voice. Almost like Fluttershy.

>You let out a lighthearted giggle

"That's great! See? Doesn't it feel good when your friend helps you get what you wanted? You got the crown just like I did. We got to share the victory...and yeah, I admit..being smug was fun. But...I feel really good giving you that experience, you know?"

>"Oh yes...I know" Nymous said as she wiped a tear form her eye. "Anon....Can I tell you something?...my true feelings on the subject?..please?"

>...oohhh shiitt. OH SHIT!

"Y-yeah! of course! Whatever it is...I won't judge or laugh. I promise..."

>No..hugs might be the order of the day after this.

>"Well...." Nymous raises her hoof to take off her crown, and looks at it. Looking around as if to see if anyone else was nearby. Given you realized you were taking a road to Fluttershy's cottage. It was pretty barren at this point. "..Anon..... I feel...."

>Suddenly, she throws her crown right at your face as she starts barking at you "ABSOLUTELY AGITATED WITH YOU! HOW DARE YOU SHOW ME PITY!"

"Ow! H-hey! What the?!"

>You back off from her as you rub your face. ngh, that actually stung.

"Aggravated? How could you be aggravated? Is'nt this what you wanted?"

>"What I WANTED was to win! That includes defeating you too. By you winning and calling me up to accept a crown is a form of pity! You're lucky the love from the crowd was decent or else I was have thrown you off the stage right then and there! I DO NOT accept pity of any kind....it's detestable."

>Well..fucking shit man. You were just trying to be nice. In fact, after having a crown thrown at your face. You were pretty pissed yourself.

"....I was just trying to be nice to you. Why do you have to be a bitch about it? Can't you just accept the fact that you have a friend who cares about you and just wanted to make you happy? Because that's what friends do...because we're friends. So stop being a bitch and just accept it. Sheesh!"

>Nymous growls at you as she starts to advance on you, her head lowered, it looked like she wanted to bite your head off. It was actually frightening to see her go from cute to angry like this...you start backing off as well. You didn't mean to strike this much of a nerve. "Listen here. I will only repeat this ONE LAST TIME. I am your friend...but the meaning of friendship to me is completely different from any of these revolting do gooding ponies. You will never change that no matter how hard you try. You want to remain in my good graces? Then don't do me those kind of favors. Instead do the favors I want you to do, that I tell you to do, and nothing more. And try to stay interesting. I enjoy our talks but when you act like this it just makes me want to hurl you into a volcano..."

>Why did she always have to be like this? Did she really enjoy being villainous all the time? Somewhere in that exoskeleton had to be a heart yearning for a real friend. You just had to find it....but you could see, you weren't going to find it by being nice.

"Tch..what's with you anyway? You know, actually. Let me ask you. If It was me giving you Equestria itself "Out of pity". Would you accept?"

>Nymous thought about it for a moment, and nodded. "Of course I would"

>...you stop..and look at her with a twitching eye

"....I thought you said you hated pity"

>She shrugged "I do, but having control of Equestria far outweighs the pain that comes from being pitied upon."

>you groan and roll your eyes

"You're really something else Chrysalis...."

>"So are you Anon, so are you...now then. The last order of important business is your dear and loving Aunt. This should be the road to her cottage. And this should be easy enough. She seems to be the softest one of Twilight's friends."

>.....

"She is...remember the deal. No funny stuff, ok?"

>Nymous groans "You don't need to remind me"

>You were taking such a chance with this. You had no idea how you were going to call out Chrysalis's shit if she got rowdy in any way.

>And then there was the captain....he hadn't shown since he....oh shit.

"Waaaaaaait!"

>You stop immediatly

>"What is it now? Cold hooves? This has to be done sooner or later Anon. Better to do it now while I'm in the mood to play nice."

>...your leg....her chest.

"I don't want to see her looking like this. We need like a coat and a leg band...maybe four leg bands so she doesn't get suspicious.

>"...Does it matter? It just means more food for me if she's going to worry about what happened to us"

"I don't want her to worry though. Come on, can't you help me out with this? Just this once?"

>Nymous shakes her head "It's not part of the deal. Besides..." She rips off her bandages, the injury was no longer there "I didn't really get attacked at all. It was a light enough wound for me to heal quickly."

"Well I can't just take my bandages off and look ok. So...please?"

>Nymous just continues walking forward "Deal with it, its not my problem"

>You could deal with it...or...

>You latch on to her left back leg, and try to anchor yourself down.

>"What?!" Nymous starts to drag you easily, then cackles "Nice try, but just because I lack magical power. I've fed myself enough to raise my strength. More than enough to drag you the entire way"

>You clench your teeth hard from the pain of being dragged and then let go when it becomes too much. Your face falling onto the dirt.

"Drat.."

>Nymous snickers at you "Well, that was a dumbass move. Anything else?"

>You still had your face in the dirt

"I'm thinking...wait..."

>You look at her with a smirk of her own

"I could just tell all those colts that you're free game and looking for a coltfriend. Sure you're teenaged looking, but you're hot enough for them not to care."

>Nymous stopped "You are aware I feed on love, right?" She doesn't even look at you. Internally, that was worrying.

"But Lust is empty calories right? You think those colts can control their horsie hormones? Besides...It'll be so cute that the adults wouldn't be able to contain themselves and ask you things like babysitting their kids or telling you how happy you seem to make them. I know you hate that shit."

>"......" Nymous just looked on ahead

"......so?"

>Nymous sighs, turning her head, showing her agitation "...Fine...but what are we even going to look for?"

>You get up and dust yourself off.

"Anything that looks natural."

>Nymous looked back at the town. Then looked forward, the cottage could be seen just a small distance away. She grumbled to herself. She just wanted to get this over with.

"If I had my horn, I could whip something up. Can't get my clothes from home. They are too fancy."

>Nymous looks to your saddle bag. She did know of one thing you could use. "What about that device you have?"

"Device?..The Grappling hook? That's not clothes Chrysalis"

>"But you do put it around your leg. Why don't you just put it on to cover the injury. And then explain it away if she asks?"

".....huh..."

>You look to your Saddle Bag. And take out the Grappling hook.

"..That's actually good thinking. I didn't think of that. I hope she doesn't ask to see how it works though"

>"Just don't mention it. Or just say something along the lines of you using it only when needed. Just lie to her, it's not hard at all. I do it all the time"

"All the time?....."

>You give her a stoic look at her as you raise your eyebrow

>Chrysalis rolls her eyes at you ".....Aside from my promises....ugh, I swear. I should have said screw it to the whole thing and ran off. I'm sure I could have regained my beautiful self in some other way"

>You remove your bandages and fasten your grappling hook on your leg. You wince from a sting of pain. But.....it covered up the bite.

"Hey, it covers it right up! ehhh, I don't really want to lie though...but, I don't wanna deal with her worrying about it. Because she'll just remember the whole chimera thing. The cuddles are nice yeah, but...Hey!"

>Nymous was walking forward, ignoring you,

"You could wait for me you know!"

>You rush up to her side and walk alongside her.

>She says in a sarcastic tone "Sorry, I didn't want to interrupt your insane ramblings."

>...you did do that sometimes.

"..ok, well..just remember...be nice."

>"...and when we're done, we go our separate ways for the rest of the day."

>wut?

"Uhhhh, no"

>"Yes, me being stuck with you wasn't part of the wager. And there's a few things I'd like to do before returning to Twilight's castle. And I'd rather do it alone"

"Too bad. Because I know whatever it is...it's probably evil."

>"Probably.That's why I'm going to give you fair warning. Try to stop me and I'll crush you beneath my hooves"

"You won't...You need me remember?"

>"I do, but I could still do what I wish to do if I simply send you to the hospital for a couple of weeks...ohhh, my poor brother" Nymous says in a sad and crushed tone "I tried to protect him, but that beast...it....it.... ngh" She lets out a sorrowful cry before looking at you with a grin.

>She'd probably do that too. And given her idea of friendship. She'd probably not even care

>And without your horn....

".....fine..but just this once. As a friendly favor....BUT ONLY if this goes well"

>She snickers at you "...as if you could stop me either way"

>God, she was definitly more of a handful then Discord. With Discord you could atleast reason way or get him to agree to something. But Chrysalis...you couldn't even tell if she was lying or not. Also her adapting to using human terms was throwing you off. You wondered what the other fans would think of it.

"I still could use the horn once I get it back. Don't tempt me...you know I trump you with it's power"

>"......" She sighs and rolls her eyes once more "You're such a coward hiding behind that thing. But fine, whatever...just remember, if it goes well then you won't be using your horn on me. You already said it so you have to keep your word"

"Only if you keep yours, just trust me Chrysalis. I'll get you seeing the good points of friendship yet"

>"I doubt it, besides..I could choose a form that would entice all your preferences at once. Given how lustful you are, I'm sure I could eventually make you mine utterly and completely." Her eyes begin to glow green...oh shit. She still had that?! Even then, without her horn. It couldn't be anywhere near effective.

"yeah well..."

>You look away

"You can't resist forever..."

>"We'll see who gives in first"

>...Was Chrysalis really your friend? It was really hard to tell...

>When you both reach the cottage bridge. You could see Fluttershy near the family statue. She was cleaning it with the help of a few animals as she hummed a sweet little tune.

>"...egh...I think I preferred the dubstep"

"Don't be a prude. I happen to think it's beautiful. Besides, don't you sing?"

>"I can, I do, and it's much MUCH better than that. My singing actually has meaning to it. A beauty that can't be replicated by anypony else"

>......

"I think you meant to say that your singing only represents how you THINK you're about to win..and we all know how that tu-ow!"

>She whapped the back of your head

>"Don't get cute..hrn?...there's a little white rabbit coming our way"

>hmm? You look over, Ahh! Angel, what fucking luck. If anyone will sniff out Chrysalis's ruse and probably help you once you explain to him why she's here. It's him.

"Better be careful Chryssi..This guy can figure shit out pretty quick."

>You smirk at her

>Angel steps in front of the both of you and looks up.

>You both stay silent. But any minute now he was going to.....

>.....give her a gentle hug and produce a bouquet of flowers from seemingly out of nowhere.

>........what an asshole.

>"What a sweet little rabbit..awwww" Nymous gives him a gentle scratch with the edge of her hoof under his chin. Giving you a quick evil glance as if to say "You were saying?"

>...double assholes...
RAW Paste Data
We use cookies for various purposes including analytics. By continuing to use Pastebin, you agree to our use of cookies as described in the
Cookies Policy
.