Sign Up
Login
API
FAQ
Tools
Archive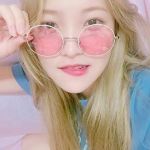 STARLIGHT @yoojung-
itsstac
May 21st, 2017
91
Never
Not a member of Pastebin yet?
Sign Up
, it unlocks many cool features!
⋮ Angel ⋮

USERNAME: @yoojung-

FULL NAME: ariel jung areum 정아름

NICKNAMES: trash bin (she eats alot) lil mermaid (the name ariel of little mermaid)

AGE: 22

BIRTHDAY: 10 september 1995

HEIGHT: 168cm

WEIGHT: 48kg

NATIONALITY: american

ETHINCITY: korean

HOMETOWN: seoul, south korea

BIRTHPLACE: san francisco

LANGUAGES: english, korean

SLOT: appeal

BACKUP: gooey

FACE CLAIM & BACKUP: yoojung ioi // yOONA SNSD

⋮ Heartbreaker ⋮

PERSONALITY: areum is a very bubbly and lively girl. yet she's very bipolar, she can change from happy to freaking mad in a minute but doesn't show it. she just feels she'll get very rude when she's mad hence she'll rather not talk when she's mad then scream at people. born in a very strict family, her parents restricted her to many things. hence she is very quiet and is honestly shy infront of strangers. but in starlight, it made her really comfortable so she became more confident and loud. she's easily fooled. areum tends to believe in every small rumor even when the rumor makes no sense at all, she still believes it. she believes that unicorns are real and she even went to a corn farm to find rainbow corns, that said, she believes everything people say too, when it was suppose to come off as a sarcasm . she's very charismatic that she can melt people's heart by just winking to the camera. her eyesmile can make you fall for everything.

POWER EXPLANATION: she uses her eyesmile and listens very well. she uses the power of touch sometimes too. she can make boys fall for her very easily,even girls find her very charming. she is an all-rounder that has different sides like cute, sexy, charismatic and airhead.

ON AND OFF STAGE PERSONA: she may act all beauty on camera and very sophisticated but in real life she's a very insecure about her weaknesses and stuffs & she's pretty messy .

IN AND OUT OF MISSION PERSONA: she acts the same

FAMILY: father; human ; jung minho mother; goddess ; jung minah sister; half human half god ; amanda jung ara

RELATIONSHIP WITH: father; 8 ; not as close as areum and her mom bc areum's grandmother (minah's mom-goddess too) didn't approve of her dad and mum being together as her dad was a human and her grandmother wanted minah's husband to be a god. mother; 9 ; protective and sometimes, over protective bc her grandmother once tried to kill areum. areum loves her mom and grandmother still though. sister; 10 ; her sister is like the world to areum bc her sister rly took care of her when her parents and her grandmother was fighting and only her sister could feel the humilation of being a half human and half god, they were often humilated in school last time as they were the minorities of half human god.

⋮ Good thing ⋮

HABITS:

chewing her lips when nervous

playing with her hair or fingers when in an awkward situation.

LIKES:

converse

dancing

the human world bc she feels the god world is too complicated

singing

rapping

oversized hoodie

DISLIKE:

coffee

dark chocolate bc its bitter

heat

the smell of smoke (she hates this the most)

HOBBIES:

when she got bullied, she used to write her daily thoughts in a secret diary

baking

singing to ballads bc she relates to them alot

FEARS:

being alone

dog

height

enclosed spaces

anything new

TRIVIA:

she almost got killed by her grandmother bc her grandmother thinks she's a bad luck but her mother left taehyung, a human beside areum to take care of her.

social medias: @jungareum_

thinks her sister is prettier than her.

she hates to be rude so she refrains herself from hating on someone

sort of a clean freak, has a hand sanitiser and a pack of wet tissues in her bag all the time

she shot many cfs before.

when she first went to the human world with taehyung, she was very scared as she was at this new place but soon she adapted and started falling in love with taehyung

she hates dying her hair.

can't stand not washing herself for 1 day.

trainee at yg ent for 2 yrs

⋮ Limitless ⋮

STAGE NAME: isabelle (her dad wanted to name her that originally but her grandmother named her ariel so she had to go with ariel)

POSITION: visual, lead dancer, vocalist.

TALENT TWINS: visual ; IU vocal ; jessica of snsd dance; chungha of ioi

IDOL FRIENDS/RELATIONS: blackpink jennie(trainees together @ yg ent), jung eunji apink (cousin)

ROLE MODELS: snsd & IU !!

⋮ Baby Don't Like It ⋮

LOVE INTEREST: kim taehyung

BACKUP LOVE INTEREST: park chanyeol

FIRST MEETING: areum's grandmother hates her to her guts and even tried killing areum once but areum's mother hired taehyung as areum's bodyguard and tada! love sparksss

FIRST IMPRESSION: areum was really warm to taehyung but as her bodyguard, he was really cold to her, slowly areum used her charm talks and melted taehyung.

HIS PERSONALITY: he's definitely the second sun. he's very very caring irl but bc of his job nature, he gotta act cold and arrogant.

HOW THEY ACT AROUND EACH OTHER: usually it'll be areum talking to herself but soon, taehyung started being warmer to areum.

BEGINNING, MIDDLE, END: bodyguard and employer status, lovers , ex

COUPLE TRIVIA:

her mum was actually her matchmaker haha

despite taehyung being so cold to areum, areum was still very warm and very determined to make him speak up.

they argue alot about the smallest things in life but ends up good again.

they're love story is very cliche

areum created a instagram account for the both of them @tae.reum

SCENE REQUESTS when areum kept talking to taehyung and taehyung finally gave in and talked to areum bc areum cried for a day.

soon, taehyung and her moms contract was up and taehyung had to go to america for his next mission. he promised he'll love areum from america with a long-distanced relationship. but as cliche as it may sound, long distance relationship doesn't work afterall. they were drifting apart and taehyung had another new eye-candy hence areum broke up with him without him knowing areum knew about him cheating on her. areum said it was her fault for not loving taehyung anymore.

⋮ Back 2 u ⋮

DEBUT SONG: into the new world pls its gold hahaa

FANDOM NAME: moonlight ahaha or constellations

RELATIONSHIP WITH FANS: they're very close && her fan service includes doing aegyo which she normally doesnt, gives hugs to fans, taking selfies with gooey using fan's phones.

CLOSEST MEMBER: classy / golden

SCENE SUGGESTION: they went to the shopping mall and bought clothes for their members based on their fashion tastes.

PASSWORD:

NOTES TO THE AUTHOR: heLLO michelle ! goodluck for this applyfiction i hope my form is good and its satisfactory !!

EXTRA: when areum's mad, she will mutter "god damn it, aish jjinja" to herself v v softly.
RAW Paste Data
We use cookies for various purposes including analytics. By continuing to use Pastebin, you agree to our use of cookies as described in the
Cookies Policy
.